Infor Lawson cannot load because the Profile service returned an error: Error occurred while accessing user data
If one of your users in Lawson Portal or Mingle is receiving this error (or similar), a Lawson Security administrator will have to follow the steps below.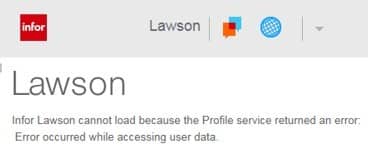 Login to Lawson Administrator Tool
Go to Use Management > User Maintenance
Query the user who is having the issue.
Right-click on their record and choose 'Edit Lawson Environment Information'.
Make sure the user has a data area set. Edit >> Change after changing.

Alternatively, if the data area is already set, select Edit >> Change. Reminder, if you are using ISS, hit the save icon. (You do not need to actually add or change anything on this form/screen.) This creates the R_USER record in the GEN database.

In Lawson portal (or mingle, selecting the globe icon), if you're a portal admin, you should see an option to Clear IOS Cache.
Have the user that was encountering the error close all of their web browsers Internet Explorer (IE), Chrome, Edge, etc and then open a new web browser session and log in again.
Note: LSF 9 ONLY – LAUA users: If the user has the attribute CheckLS=No, the user may also need an LAUA Security Class assigned to their Operating System account via LAUA.
Good luck!
https://www.nogalis.com/wp-content/uploads/2022/02/Infor-Lawson-cannot-load-because-the-Profile-service-returned-an-error.jpg
470
470
Angeli Menta
https://www.nogalis.com/wp-content/uploads/2013/04/logo-with-slogan-good.png
Angeli Menta
2022-03-04 08:03:16
2022-02-22 14:06:34
Infor Lawson cannot load because the Profile service returned an error: Error occurred while accessing user data